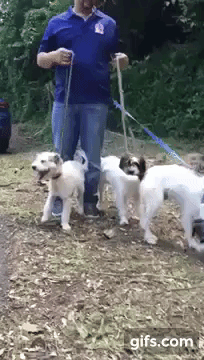 Cleo, Charlie, and Miranda are 1 year old.

These 3 siblings are super sweet! They are poodle/wheaten mixes, which means they are most likely "hypoallergenic." But most importantly, they have the most amazing personalities. Happy, goofy, sweet, loving, smart, etc. They were rescued along with their mom, who is just as sweet and loving as her kids. Great Genes! We are just head-over-heels for this adorable little family.

Miranda: Female, all white, 22 lbs
Cleo: Female, white and brown, 24 lbs
Charlie: Male, white and black, 28 lbs

These cuties are going to get homes super fast. You could not get sweeter, more loving dogs.

They are fixed, up to date on their shots, and ready to meet their forever families! For more information on them, please email Julie@ALRcares.com and fill out an application.